» Title:
The Federal Hunters' Project, a WPA Initiative / (Read on
AO3
)
» Artist:

bellatemple
/
ART POST
» Pairing(s)/Character(s):
Sam Winchester, Dean Winchester, John Winchester, Ellen Harvelle, Jo Harvelle, Pamela Barnes, Rufus Turner, Bela Talbot, Chuck Shurley
» Warnings:
Violence, mild gore, language
» Spoilers:
Seasons 1 - 5
» Summary:
Real evil exists, America, but evil, like any corporation, can be managed.
» Author's Notes:
Written for the

spn_reversebang
2011 challenge. There aren't enough thanks that I can offer to my artist who, in spite of every possible hiccup along the way, never gave me grief. Thank you,

bellatemple
, for the faith, the patience and for the opportunity to write this story for you. ♥
I also have to thank the mods of

spn_reversebang
who assisted me along the way and supported us with their flexibility when other commitments threatened to derail this entire challenge. You were so gracious, mods, many thanks.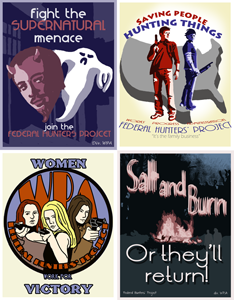 / ART POST /
( SPN_Reversebang 2011: The Federal Hunters' Project, a WPA Initiative )